Social
We Support

Our People & Community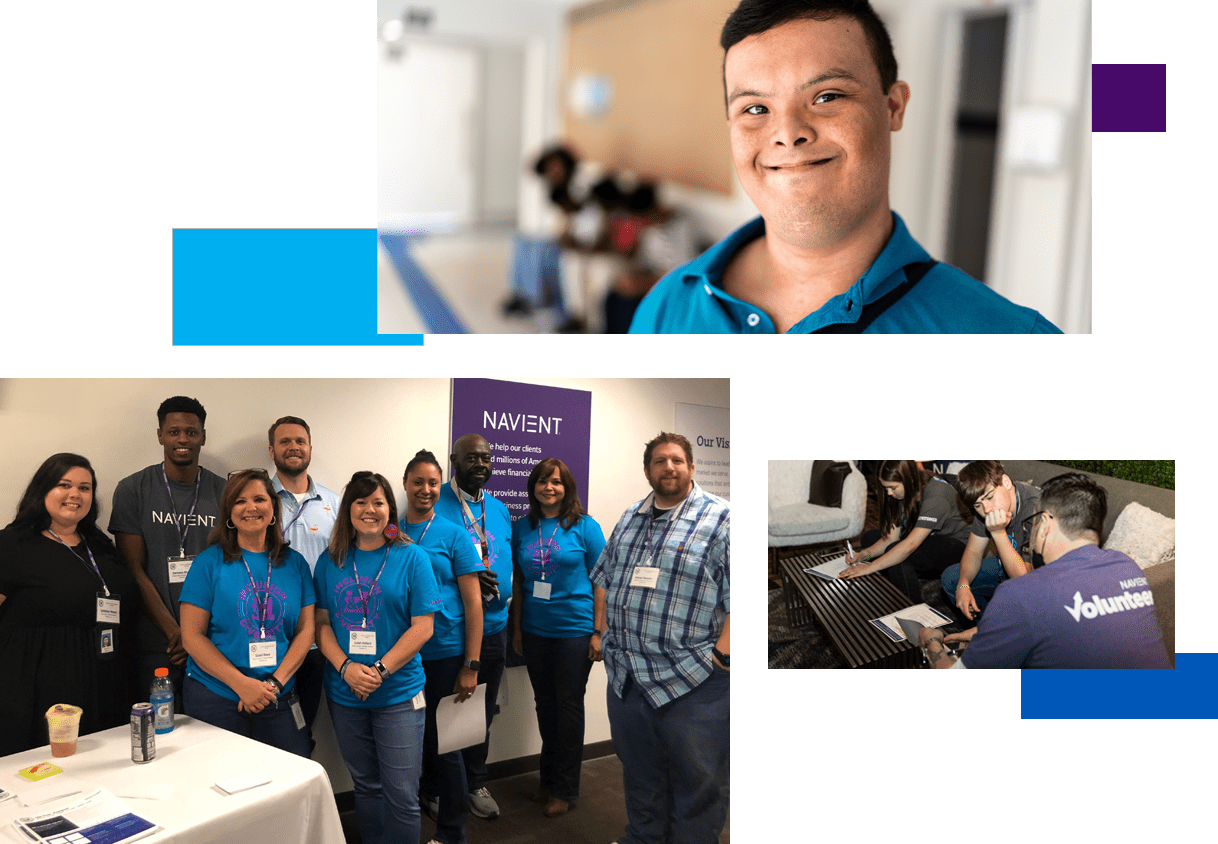 Going Merry Helps

Expand Access to Financial Aid and Scholarships
Our free Going Merry platform makes it easy for students and families to find and apply for scholarships. Plus, our FAFSA® Made Easier tool simplifies the process of completing the FAFSA form.
For Our Customers

and Community
Promoting Education and Economic Opportunity
We've helped millions of people pursue higher education and successfully pay off their student loans. Since 2014, we also have refinanced more than $18 billion in student loans, enabling people to save thousands of dollars through lower interest rates.
Simplifying the Student Loan Customer Experience
Navigating student loans can be challenging. We are committed to making the journey as smooth as possible by providing service that is easy, reliable, and supportive.
Supporting United Nations Sustainable Development Goal 4: Quality Education
We embrace our role in upholding human rights and working toward a sustainable society through innovative education financing solutions, policy advocacy, employee volunteerism, and support for nonprofits that enhance financial literacy.
For Our Employees

and Business Partners
Creating a Welcoming, Respectful Workplace
In our workplace, we welcome and respect employees for who they are as individuals, offering opportunities for meaningful work and fair compensation.
Prioritizing Inclusion, Diversity, and Equity
Through our inclusion, diversity, and equity strategy, our employees lead and participate in initiatives including our Inclusion, Diversity & Equity Council. Our employee resource groups (ERGs) enable individuals to join together based on common interests, experiences, and backgrounds.
Supporting Our Service Members
For nine consecutive years, VIQTORY – publisher of G.I. Jobs and Military Spouse Magazine – has recognized Navient with Military Friendly designations. We also are a member of the Veteran Jobs Mission, a coalition of companies committed to hiring U.S. military veterans and spouses.
Ensuring LGBTQ Rights
The Human Rights Campaign Foundation recognizes Navient as one of the best places to work for LGBTQ people. We also are a member of the Business Coalition for the Equality Act, a group of hundreds of leading U.S. employers that support the Equality Act, federal legislation that would provide the same basic protections to LGBTQ people as are provided to other protected groups under federal law.
Supporting Pay Equity
Navient is a member of Employers for Pay Equity, a consortium of companies committed to ensuring all individuals are compensated equitably for equal work and experience and have an equal opportunity to contribute and advance in the workplace.
Engaging, Training, and Developing Our Team
Navient offers team members a robust training and development program. In 2021, we provided an estimated 735,000 hours of training. Every year since 2014, Training magazine has recognized Navient with their Apex award, given to the most successful learning and development programs in the world.
Ensuring Supply Chain Diversity
Through our Supplier Diversity Program, we diversify our supplier base to include – whenever possible – minority-owned, women-owned, veteran- and service disabled-owned, LGBT business enterprise, and HUBZone small businesses.
Making a Positive Impact in Our Communities
We offer up to four hours of paid time off monthly, empowering employees to volunteer for Navient-supported nonprofit organizations. Through employee-led fundraising efforts, Navient also supports nonprofit organizations serving thousands of families annually. The Navient Community Fund supports organizations that address the root causes limiting financial success.
Learn More About

Our Social Commitments